Early Access Journey
Published August 23, 2021
Get ready for a thrilling adventure of survival, conspiracy, horror, love, and obsession.
One that will prove to you that it's not about how you face your fears, it's about how you survive them. Chernobylite is a new game from the creators of the critically-acclaimed Get Even.
Dear Stalkers
The wait is over. It's been a long road, but we finally reached the finish line. Chernobylite is now available in its complete form on PC. The Xbox One and PS4 release will follow on the 7th of September.

We want to take this opportunity to thank you all – our Kickstarter backers and Chernobylite community, for being with us throughout the entire development process. You put your trust in our idea of turning Chernobyl into an intense gaming and narrative experience based on photogrammetry, and you supported us every step of the way.

On development site: your relentless bug hunt and input to our creative process during Early Access were immense and vastly contributed to the game's final form. Thanks to your unrelenting passion and engagement, our dev team was able to fix what wasn't working and improve upon existing design but not just that. In addition, thanks to your feedback, we added features that weren't even planned in the first place. So now you get to fully enjoy the results of our joint effort.

We invite you to scroll down and check more details about the entire Early Access journey that we undertook together.

See you in the world of Chernobylite.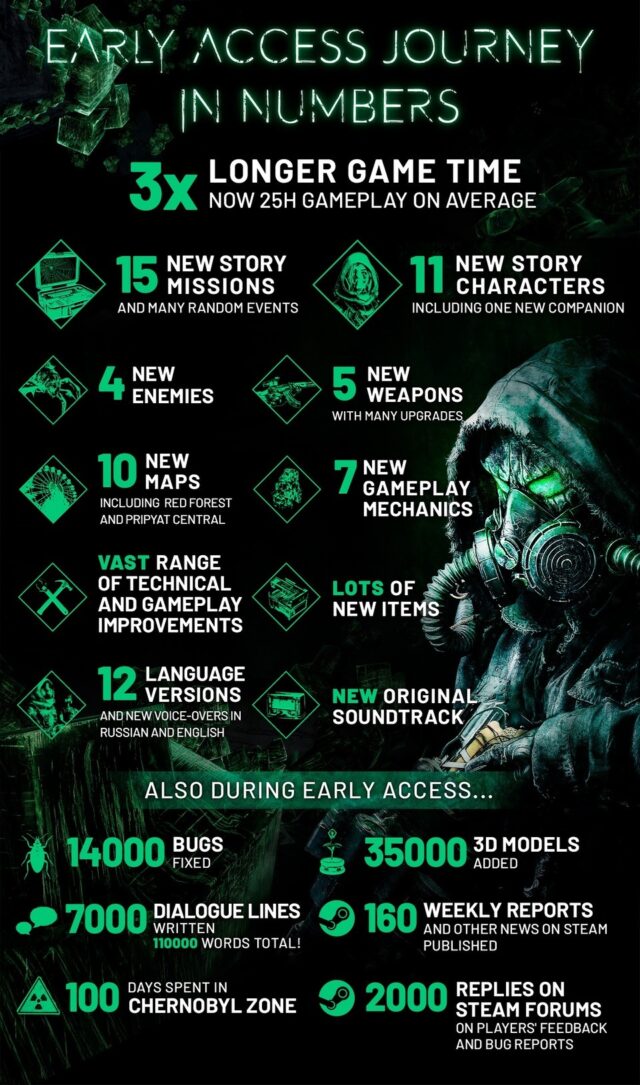 Early Access Journey in Details
Increase from around 8 to around 25 hours of gameplay on average. So three times more!


NEW CHARACTERS AND ENEMIES
New companion: Olga
New story characters: Semonov, Little Stalker, Kozlov, Konstanty, Locksmith, Semyon, Vagabond, Volodya, Hermit, Deserter and other minor characters.
New monsters: Chernohost and Duster
New enemy soldier class: Armored Soldier.
New enemy soldier variants: Sergeant, Elite Soldier, and Heavy Armored Soldier with various difficulty levels.

NEW WEAPONS
Assault rifle
Shotgun
Chernobylite Blaster
Anti-Chernobylite Burner
Railgun

NEW MAPS
The prologue with a story introduction.
Red Forest with villages in it.
Whole four new fractal world levels – each connected to a different part of the main story.
Pripyat Central with the famous Lenin Square
NAR prison.
The Heist in the Power Plant.
Stealing Adrianna's technology.

EXTRA: All levels have been extended with additional locations accessible by Anti-Chernobylite Burner.

NEW MECHANICS
Weapon upgrade system – separate upgrades for each weapon.
Storage system to help with managing your resources.
Relationship factor between the companions that changes its relation to the player's decisions.
Building system introduced outside the player's base allows them to create traps, control the threats, number of monsters, and radiation in the field.
Fractal timeline – a massive system that allows the player to change his previous decisions and their consequences, which impact the story.
Armor system – providing a wide range of armors to choose from and craft to protect yourself in battle.
NPC equipment system – now the player can equip his companions with weapons, and armors.

NEW ITEMS
Many new items for base building: air conditioners, furniture, power supplies, items made of Chernobylite and many more – all of them affect the base's statistics and the condition of your companions.
New crafting tables: for weapon upgrades, tool creation, ammunition, or equipment.
New item type: armors

NEW MISSIONS
"Old Friend"
"Chain Reaction"
"Secret Storage"
"Hermit"
"Big Fish"
"Some excuses"
"Hardware for real men"
"Checkpoint assault"
"A voice in the woods"
"Kozlov Killing"
"Kozlov Kidnaping"
"On opposite sides of the barricade"
"The truth about NAR's experiments"
"Hard Truth"
"Black Stalker"

Dozens of new, random events in all locations

15 new story missions:
GAMEPLAY MAJOR CHANGES AND IMPROVEMENTS
Tatyana Investigation: The player will now be able to visit memories recreated in VR in four Fractal Worlds related to the player's investigation.
Character progression system: dozens of new training sessions with companions, new UI segments with a whole skill tree to discover.
Psyche system: finalized. Additional player status next to Health is affected by the player's actions, lack of food, and influences health status as well.
No more clock on the mission. Now the time is represented by Chernobylite storms.
Lots of AI improvements: improved patrol roads, level design, reactions to player's actions, threat meter and many game balance parameters. Lots of improvements in monsters' AI.
Difficulty levels: We added new difficulty levels to fit different player's needs. Now there are 5 levels.
Crafting: improvements with scanning for resources, lots and lots of new items available for crafting.
Expanded and improved UI: Main menu, Mission selection, Dialogues, Maps, HUD, Tutorials, Journal, Inventory, Igor's Skills, Building, Feeding and Trading.
Gib system: Implemented gib system and gore elements
Animations: Lots of new and polished animations for combat, movement, interaction
New loading screens with additional story extensions
Save system: now apart from autosaves, players will save their game manually using dedicated save slots.
Quality of life improvements: lots of modifications which affect the overall player experience involving quick use menu, ability to turn on and off any UI element etc.

OTHER
Voiceovers: Completely new voiceover recordings in Russian and English.
New, high quality localization in 12 languages: English, Russian, French, German, Polish, Spanish (Spain), Italian, Simplified Chinese, Japanese and Portuguese (Brazil).
Additional community-driven localization into: Hungarian, Ukrainian. More are to come in the future.
Significant performance and optimization boost thanks to which the game will run smoothly on weaker PC specs.
New soundtrack composed by a respected composer – Mikołaj Stroiński.
Tons of changes and improvements made thanks to
community feedback.
The Roadmap
Our Early Access Journey has come to an end but this does not mean we are done with the game! Early Access has just been a chapter and now we are entering a new one filled with new, exciting content. We have already added to the game much more than originally planned (in green), and soon we will announce the details of updates and content yet to come to the game.